Shaq vs. Tony Parker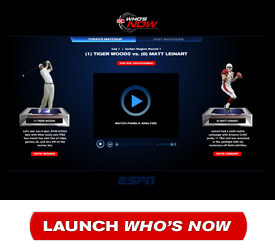 The ESPN Who's Now tournament is down to the final rounds. Today voting continues for a head-to-head battle of two NBA stars, Shaquille O'Neal and Tony Parker.
Parker is the newer of the Who's Now star athletes. He's fresh off a recent championship win and a wedding to actress Eva Longoria. Some say he's the envy of many men with his Desperate Housewives star. They also mentioned on ESPN that Parker released a rap album in French.
On the other side you have Shaq, who you see just about everywhere. Shaq has movies, rap albums, has appeared on MTV Cribs, and has his own reality show. If that's not enough if you commit a crime in Miami, he just might be the guy to arrest you. I think comparing the resumes of these two stars it's obvious who's more now.
Vote on the Shaq vs. Parker matchup here
(until 6PM EST).
Labels: ESPN, Shaquille O'Neal, Tony Parker, Who's Now
Subscribe to Love & Basketball Blog
Get Email Updates from this Blog:
Share and Bookmark

Stumble It!

Post to Del.icio.us

Digg this post!

e-mail a friend